Professional vehicles
The North American Training Trailer is now on the road!
Hands-on training for professional installers.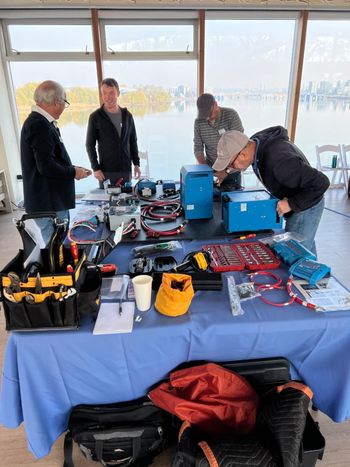 A new programme of advanced Victron training has begun to tour North America. The two-day training events will host 50 trainees – working in groups of five – to build, configure, programme and troubleshoot multifunctional Victron systems for Off-Grid and Marine power systems – together with three different kinds of Mobile/RV applications. The Hands-On training programme is aimed at professionals who already have a lot of electronic installation experience. It's designed to provide deeper familiarity with product selection, system architecture, and software programming to offer system features that exactly match customer needs.
Hands on
What makes the training so compelling is the emphasis on learning-by-doing – rather than watching and then trying to remember what you saw! It teaches the trainees not just to build and programme but to think about how to tailor the installation for the customer …building confidence in their product and programming choices. Each group of trainees are provided with a number of devices from which they have to make their selection – they are deliberately provided with too many devices for the system they will build. They are also provided with pre-made cables – again, too many for the system; and a printed itinerary which sets out the order in which the system should be built. Working amongst themselves the trainees discuss what they are doing and why. A trainer is on hand – not to answer questions directly – but to guide the team to where the answers can be found. The trainer may intervene to ensure that the system is built neatly and professionally – and, of course, that safety precautions are meticulously followed. There are hints in the team's itinerary paperwork which allow them to discover advanced installer information, and useful techniques to streamline the build.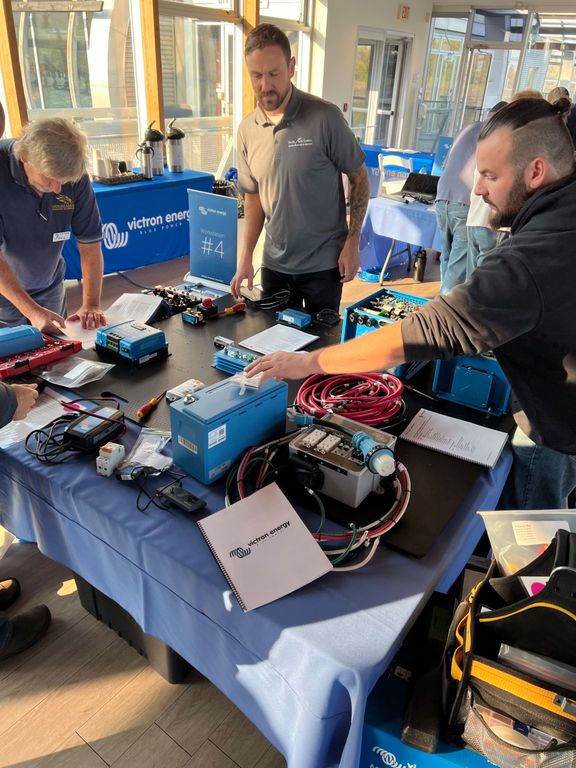 Troubleshooting
Once the trainees have completed and commissioned their project system they leave the room. In their absence, the trainer will deliberately sabotage parts of the system they have built. The task for the trainees when they return is to identify the errors which have been introduced by understanding error reports, analysing where the faults must be located, and rectifying them to provide a correctly functioning system. Over an eight-hour period, the trainees become very familiar with the system they have built. They are given the opportunity to move around the room and study the work of other trainees, who will have built different systems.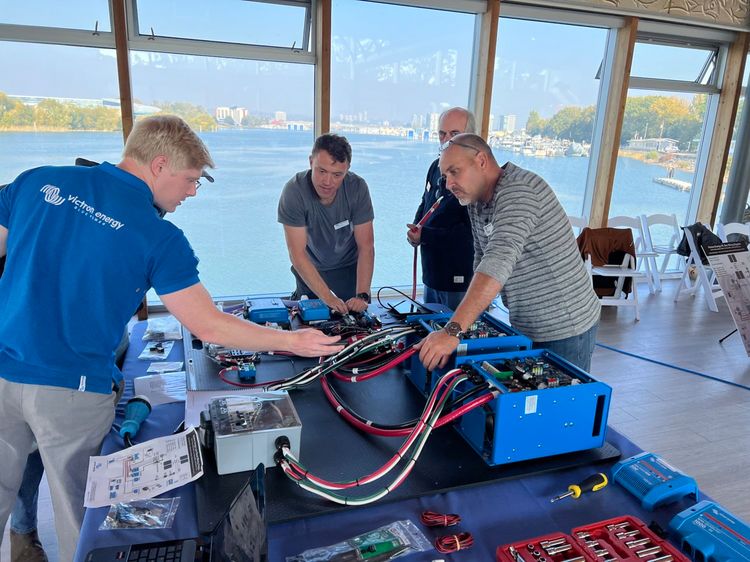 Day Two – Programming
On the second day, trainees learn to programme their systems using VEConfigure. Familiarity with programming tools allows system configuration which exactly matches customer needs. Trainee programming tasks include configuring Inverters for Split Phase operation; initiating settings for Lithium-based battery storage; setting up Temperature activated relays; Allowing Discharge input configuration; and Programming Assistants for by-pass and Dump loads. Here's an excerpt from the course syllabus: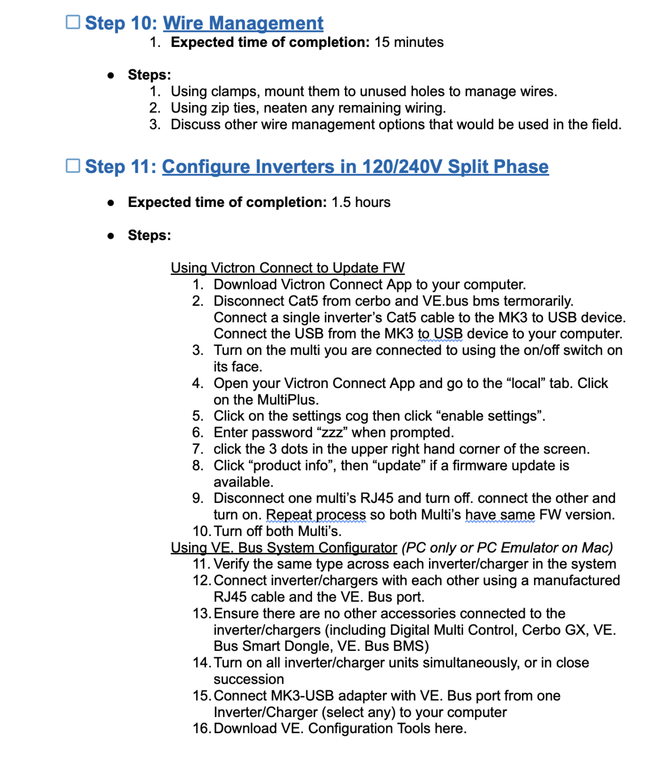 Trainee Feedback
Of the attendees at the first training event, one or two were completely new to our products but most already had significant experience with Victron system installation – up to 7 or 8 years in some cases. From the chat at the end of the training, we recreate these remarks:
Lance Vickery This training is very different from last year's tour which was much more classroom-style training. This one is 100% hands-on and we get to work with all the different things we learned about last year.
Elias Ristich
,
Nomad Vanz
: Great structure. Even though I thought I knew most of the Victron components, there was still a ton of new stuff I learned – such as pairing two inverters together, and more. The first day was spent on wiring and commissioning the system, but day 2 was when the challenges started to come with assistant programming, dump loads and taking full advantage of the Cerbo GX features. In the end, I walked away learning a bunch of new tricks that I never thought I needed.
Stuart MacKenzie
,
Comox Marine
: We sell and help design Victron systems, but we are not always hands-on with the installation process. This training helped provide us with a feeling for all the products and was a great eye-opener with all the features and how to take advantage of different settings. There are so many ways to design Victron solutions and the best part was brainstorming this within our group. Made some new friends in the industry, and learned a lot.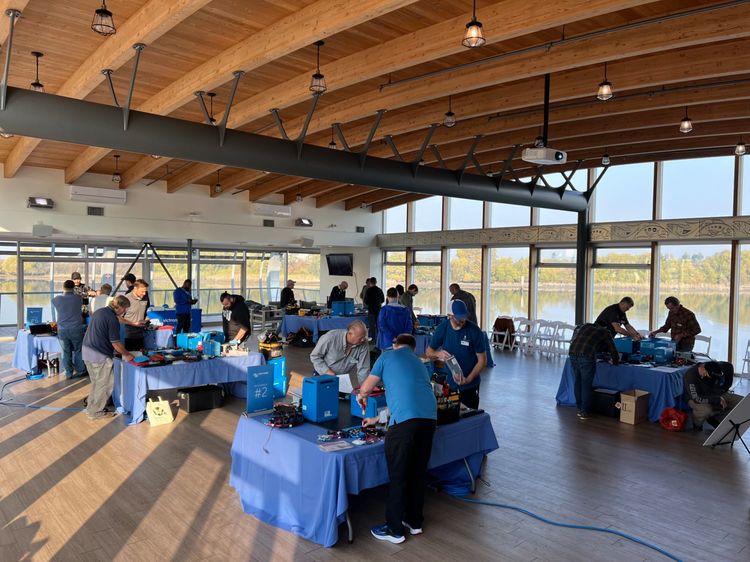 Future dates
The new 'Hands On' training will follow a rolling schedule and currently has fifteen dates. This particular Hands-on Training Tour will host events in 15 cities across North America between late 2022 and mid-2023. This groundbreaking training programme is being delivered by our four North America Sales Managers, in partnership with their ten-man Victron Ambassador team. If you want to check availability at one of those locations you can visit our
training
page. Let's take a look at the action:
"" allowfullscreen="allowfullscreen" scrolling="yes" class="iframe-class">